Electrical Product Manufacturing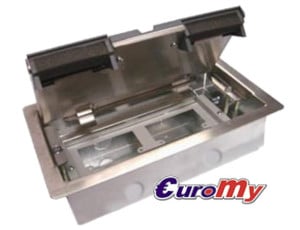 Floor Boxes
We manufacture and offer a range of access and screed Floor Boxes. Our EuroMy product range is available with 1, 2, 3 or 4 compartments.
Key Specifications:
Floor box manufactured from galvanised steel .
20 & 25mm knockouts punched to allow flexible conduit
Panel cut out 300 x 200mm
Minimum plug space 28mm
Lid/trim assembly manufactured from flame retardant high impact ABS
2 cable exit flaps providing 60 x 15mm openings
Integral moulded lifting handle
4 spring fixing clips for quick fit
Lightning Protection
We manufacture a range of metallic lightening protection products including clamps, DC clips, etc.